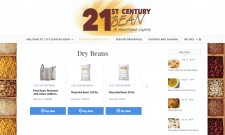 Technology and Logistics Startup Provides Turnkey Solution to Enable Manufacturers to Tap the Large LTL (Less-Than-Truckload) Market
LOS ANGELES, October 3, 2018 (Newswire.com) - ePallet (www.epallet.com), a technology and logistics startup, seeks to deliver "True Wholesale" by providing a machine-learning powered platform that disrupts the existing supply chain by allowing customers direct access to manufacturers' products in full pallet increments. With an eye towards helping food manufacturers become more successful, ePallet offers manufacturers an easy way to enable e-commerce on their websites with ePallet's eCODE, helping them capture the enormous LTL market. 
ePallet's eCODE turbocharges a manufacturer's web presence. By simply copying and pasting a few lines of code, a manufacturer is able to start selling their products to pallet-quantity buyers. In addition to the technology, ePallet takes care of all logistics and customer service so servicing this market segment is easy. 
Stacey Masters, general manager at 21st Century Bean (www.21stcenturybean.com), finds the ePallet eCODE a great addition to her site, saying, "The slider was extremely easy to use. I have very basic knowledge when it comes to coding and website design, but the instructions and link made it effortless to put it in! It looks great and displays our product in such a professional manner. It allows our customers to have an easy purchase experience through ePallet and has been a fantastic addition to our strategy."
"We're focused on our manufacturers' success and enabling them to tap the pallet-quantity buyers with our technology ensures they gain a competitive advantage," points out ePallet CEO James Kwon. "We are constantly looking at new ways both large and small to cut out the middleman and add efficiency. Our manufacturing partners make great products but the bloated supply chain makes them less competitive. Our aim with ePallet eCODE is to make our partners successful and leveraging ePallet's technology does that."
Source: ePallet
Share: