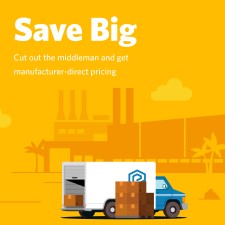 Agreement to bring products to a national audience of food service customers
LOS ANGELES, January 30, 2019 (Newswire.com) - Gills Onions, one of the nation's largest, family-owned onion growers based in Oxnard, California, announced its partnership with ePallet, the artificial intelligence (AI)-driven platform that gives customers direct access to a more efficient and cost-effective way to buy and sell food and consumables in full-pallet increments.
"We chose ePallet to help us reach a more diverse customer base," said company owner and fourth-generation farmer Steve Gill. "With our vertically integrated fresh-cut plant producing a wide variety of processed products, such as sliced, diced, slivered and puréed onions in food service and industrial quantities, ePallet's platform offers a perfect way to expand our business.
"Because ePallet takes on every detail of servicing pallet-quantity customers, including freight, billing and customer service, we're looking forward to a reduction of overall operating costs," he added.
ePallet (www.epallet.com), headquartered in Los Angeles, California, offers an innovative approach that disrupts the traditional supply chain where layers of middlemen typically add markups of 10 percent to 40 percent. With ePallet's machine learning platform delivering "True Wholesale," customers benefit from real-time, net-net delivered pricing in full-pallet increments.
"We're incredibly impressed with Gills Onions, not just from a product-quality standpoint but also from their innovations in efficiency and sustainability that reduce greenhouse gas emissions, water use and electricity consumption," said James Kwon, ePallet CEO. "We're excited that they recognize our innovative approach as a way to fulfill their vision while increasing their pallet-quantity sales to meet their expansion goals."
To learn more about ePallet, please contact: Media Relations Office: 833-372-5538, press@ePallet.com
Source: ePallet Inc.
Share: